Check out this kick ass tube, Punk Rock Girl, by Trinita! She has that punk rocker look down and fits any punk/rock tag perfectly!
There are so many layers to tell you about that it would take too long! Her shirt, skirt, socks, boots, hair, and leggings are all changeable! Awesome, right??
Purchase
Punk Rock Girl
,
over at PFD today!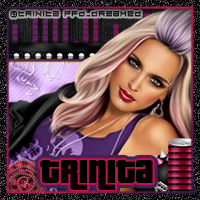 Both tags were made with the matching collab kits designed by myself and Jackie's Jewels! The kit contains 102 elements and 24 papers! It's exclusive to the Pimpin' PSPers Warehouse so head on over there and pick it up!
Purchase Punk Rock Girl Collab here!