PTU tutorial using 2013 ShowGirl by Ismael Rac!
You can purchase the tube & matching kit
HERE
!
**This tutorial was written by me and any resemblance is purely coincidental. It is written for those with a working knowledge of Photoshop.**
Supplies
Font
Scrap Kit
Template
by Millie's PSP Madness
Tube
*Coming Soon!*
*You must obtain a license to use this tube.*
Papers
2
5
8
9
10
12
Let's start!
This is a quick tutorial, but it showcases this gorgeous tube perfectly with the beautiful papers!
Open a new canvas, size 650x650.
Open the template.
Remove the cr layer and 11.
Add a drop shadow to each layer of the template.
Move paper 9 over layer 10 and create a clipping mask.
Place paper12 over layers 9, 8, & 4. Create a clipping mask each time.
Place paper5 over layer 7 and create a clipping mask. Resize a little.
Move paper8 over layer 6 and create a clipping mask. Resize a little.
With layer 5, change the color overlay to #46bdf3.
Place paper2 over layers 1, 2, & 3. Resize each one a little and create a clipping mask.
Now place the full size tube on top of the template so she rests in the middle. Resize and add a drop shadow.
Take a larger size of the tube and place it over the paper in layer 4, under the dotted layer. Create a clipping mask and resize the tube a little. Just show her from the upper torso.
Take another close up of the tube and move it over layer 8. Create a clipping mask and move the tube around so you just see most of her face.
Repeat the steps for layer 9, but this time flip the tube horizontally.
Change the three close up layers of the tube to Luminosity.


Mask
Open a new canvas, size 600x600.
Move paper 10 on to the blank canvas.
Open the mask and move on top of the paper.
Remove the white background and place the mask behind the tag.
Make it evenly stretched on all sides, but not hang off the canvas.
Name
Main color is paper12 placed over the name and then just create a clipping mask.
Add a stroke, size 2, in white.
Select the pixels of the font and expand by 4.
Add a new layer below the name and fill with color #9769fd.
Add a drop shadow to the purple layer.
Add a bevel to the name. Change the gloss contour to Cove-Deep.
Change the shadow mode to #fd60fe.
Add your tagger mark and copyright information.
Crop off any extra canvas.
Save as a .psd & .png.
We're done :)
Here are a few
snags for you!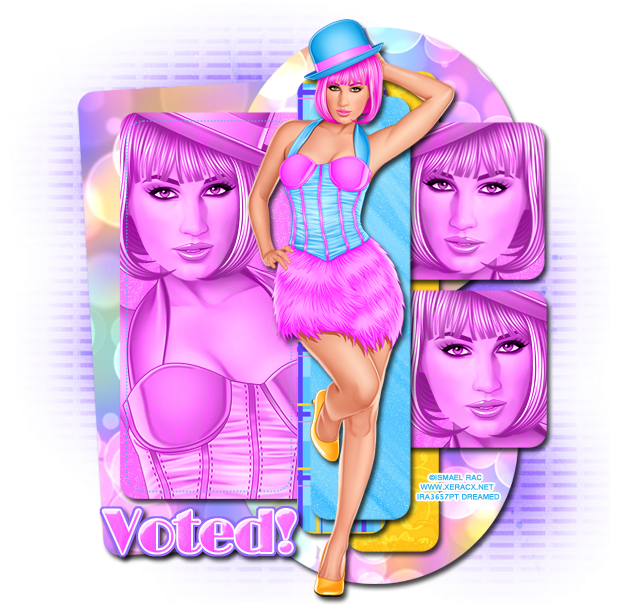 Thank you for coming by!